What Causes Acne?
Our skin is covered by tiny hair follicles that have glands which produce oil (called sebum) helping protect our skin and hair from drying out. Sometimes dead skin cells on our body can become trapped in the sebum instead of rising to the top of the skin and being washed away.
The result, a mass build up of bacteria within the pores which ultimately becomes what we know as acne.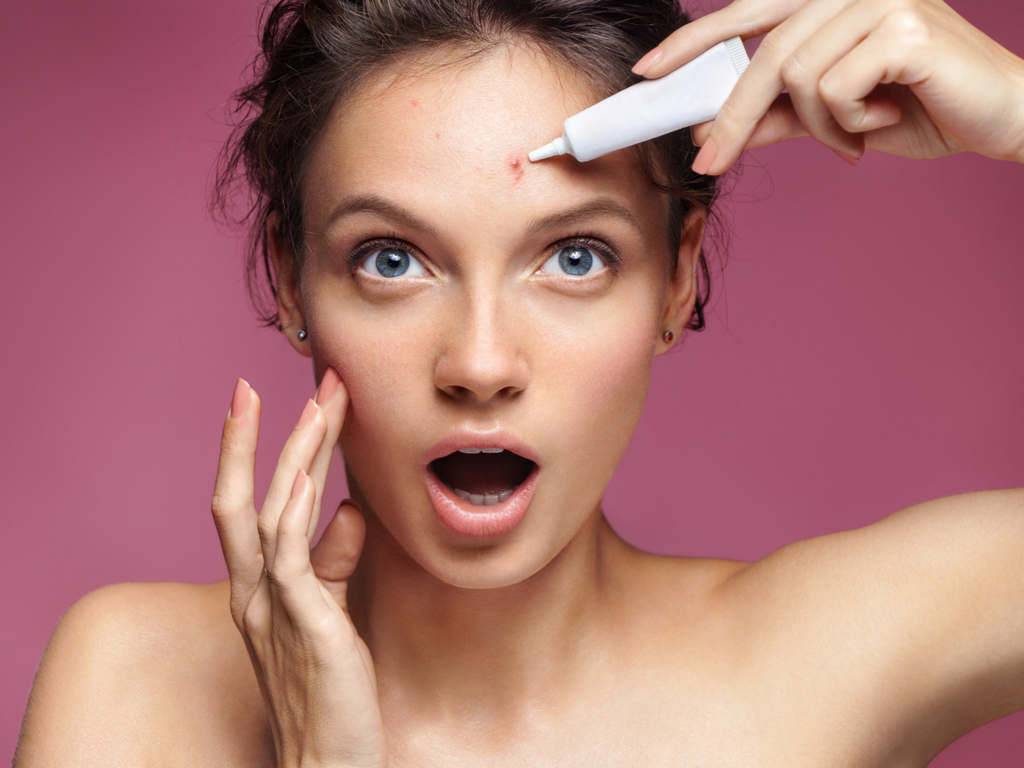 At What Age Do You Get Acne?
Acne comes in many forms and at different stages of our lives. Acne can appear on our face, back, chest, neck, upper arms and shoulders, and is not a stage in life anyone looks forward to.
According to the Government Health Direct website, puberty begins and ends anywhere between the ages of 9 and 13, and it is during this time when we start to see the onset of hormonal acne in boys and girls. 80% of all people at some time in their lives will have acne and as a general rule most grow out of it by the age of 25 however for some it can be a lifelong issue.
Types of Acne
| | |
| --- | --- |
| Grade 1 | Mild – White heads / black heads |
| Grade 2 | Moderate – Multiple papules or pustules usually on the face |
| Grade 3 | Moderately severe – numerous papules and pustules with the occasionally inflamed nodule. The back and neck may also be affected |
| Grade 4 | Severe nodulocystic acne – numerous large painful pustules and nodules with inflammation |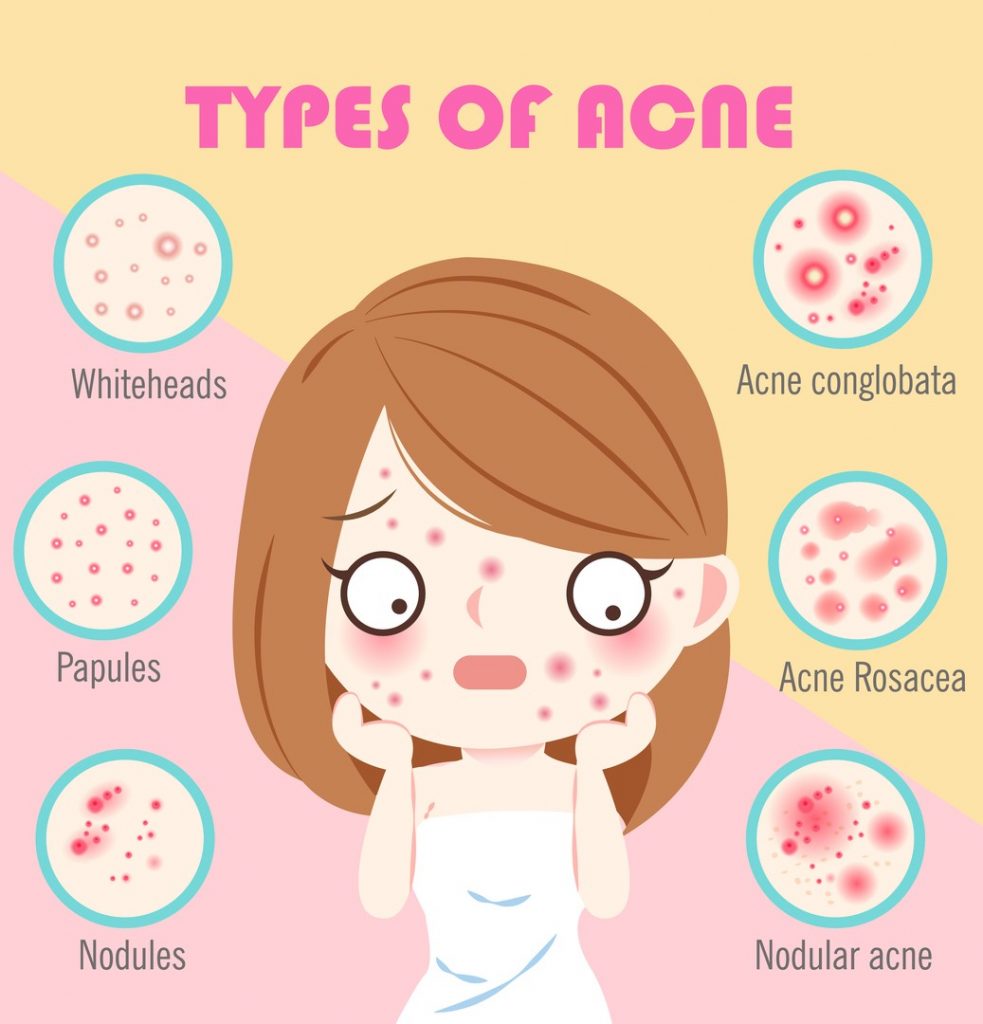 How Do I Get Rid of Acne?
There is a very large marketing industry dedicated to treating acne, but unfortunately not all treatments come with scientific research behind their claims. What works for one person may not work for another and often the over the counter acne treatments can leave our skin even more red, dry and irritated. Research and understanding of the products and options available for acne treatment is the most important aspect in helping make the best decision for choosing a solution.
What Are Some Natural Remedies for Acne?
Cost effectiveness is one of many reasons why people may choose the path of natural remedies for their acne. It is important to note that before using any alternative acne treatment you should do your research. Some "cures" may not have been thoroughly researched and have no scientific backing whatsoever. However, this doesn't necessarily mean that there is no benefit in trying them out.
We should look at the natural elements around us and try to make adjustments to our lives to minimise the effects of acne on our skin. For example, you may limit artificial heating, avoid harsh winds or intense UV rays and cleanse your skin morning and night. Please view the table below for example of natural remedies:
| | | | | | |
| --- | --- | --- | --- | --- | --- |
| Treatment | Healing properties | Mixture | Application | Frequency | Reduces |
| Apple Cider Vinegar | Organic acids | 1 part apple cider vinegar1 part water | With cotton ball | Morning and night | OilScars |
| Zinc supplement | Cell growth Hormone productionMetabolic and immune function | As directed by your clinician | As directed by your clinician | As directed by your clinician | Acne |
| Honey and cinnamon mask | AntioxidantsAnti inflammatoryAnti bacterial | 2 tbsp honey1 tsp cinnamon | Leave on cleansed face for 15 mins | Once a week | OilBacteriaInflammation |
| Tea tree oil | Anti inflammatoryAnti bacterial | 1 part tea tree oil9 parts water | With cotton ball to affected area | Morning and night | BacteriaInflammation |
| Witch Hazel | Anti inflammatoryAnti bacterial | Chemist brand | With cotton ball all over face | Morning and night | BacteriaInflammation |
Is There a Body Soap I Can Use That Won't Irritate My Body Acne?
Australian Botanical Soaps are ethical soap producers whose products contain pure essential oils and components that will not strip your body of its natural oils. Specific bars that may include natural acne remedies include:
French pear with
Shea Butter
Contains natural shea butter extracted from the nuts of the Shea tree.
This will offer a nourishing, soothing and moisturising action leaving the skin clean, supple and hydrated.
Charcoal with
Peppermint Oil
Contains activated charcoal from the coconut shell.
This will help draw out excess oil and toxins from the skin pores, leaving your skin hydrated and nourished.
Goats Milk with
Soya Bean Oil
Contains pure goats milk sourced from south eastern Victoria blended with soya bean oil.
Australian Botanical Soap produces one of the best goats milk soap bars available which is perfect for those who have sensitive skin as it is mild and will not strip the natural oils produced by your skin.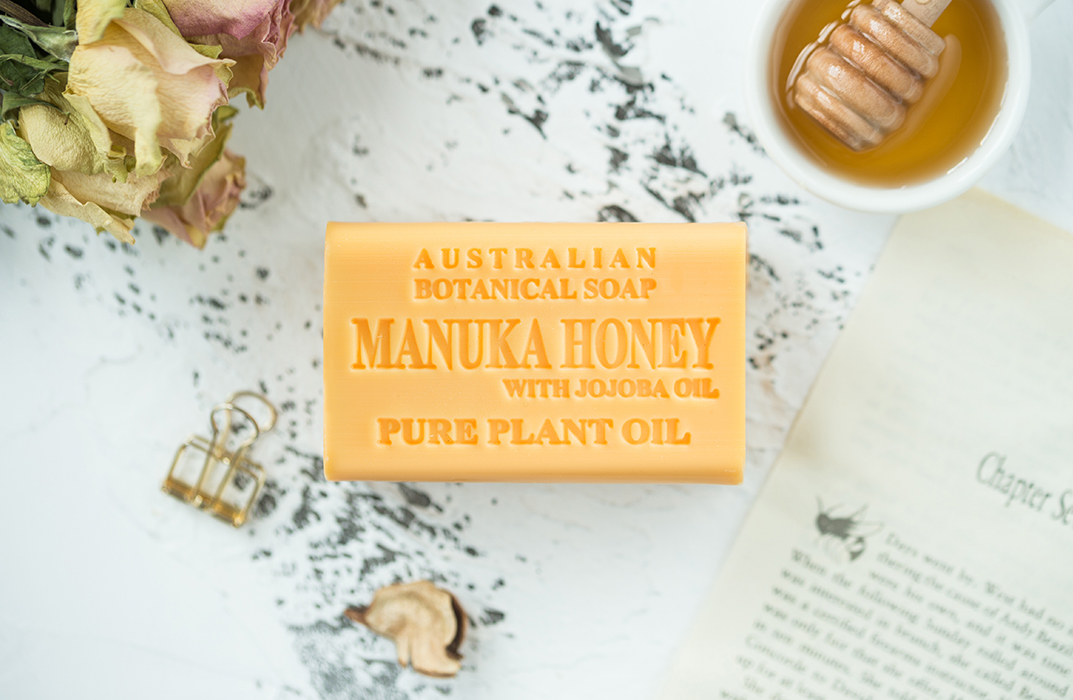 Manuka Honey with
Jojoba Oil
Contains 100% pure Manuka Honey sourced from New Zealand and Jojoba oil taken from the seeds of the Jojoba plant.
This makes it a very gentle but moisturising bar suitable for all skin types. It maintains the skin's natural hydration, smoothness and elasticity.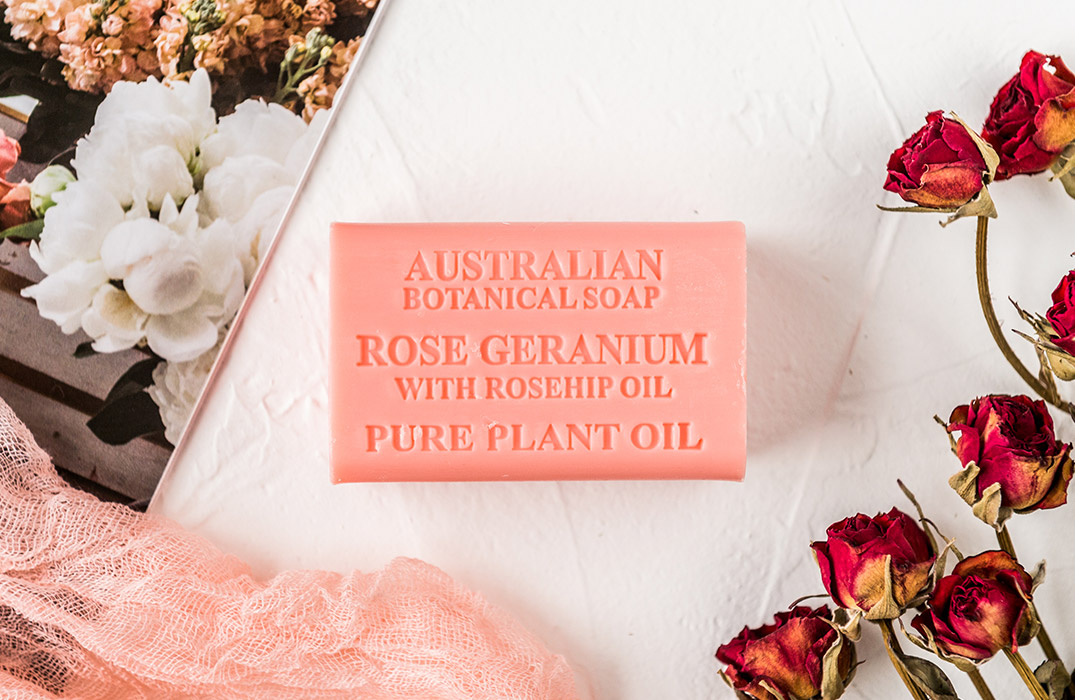 Rose Geranium with
Rosehip Oil
Contains rosehip oil which is pressed seed oil extracted from the wild rose bush, ideal for cleaning and moisturising the skin.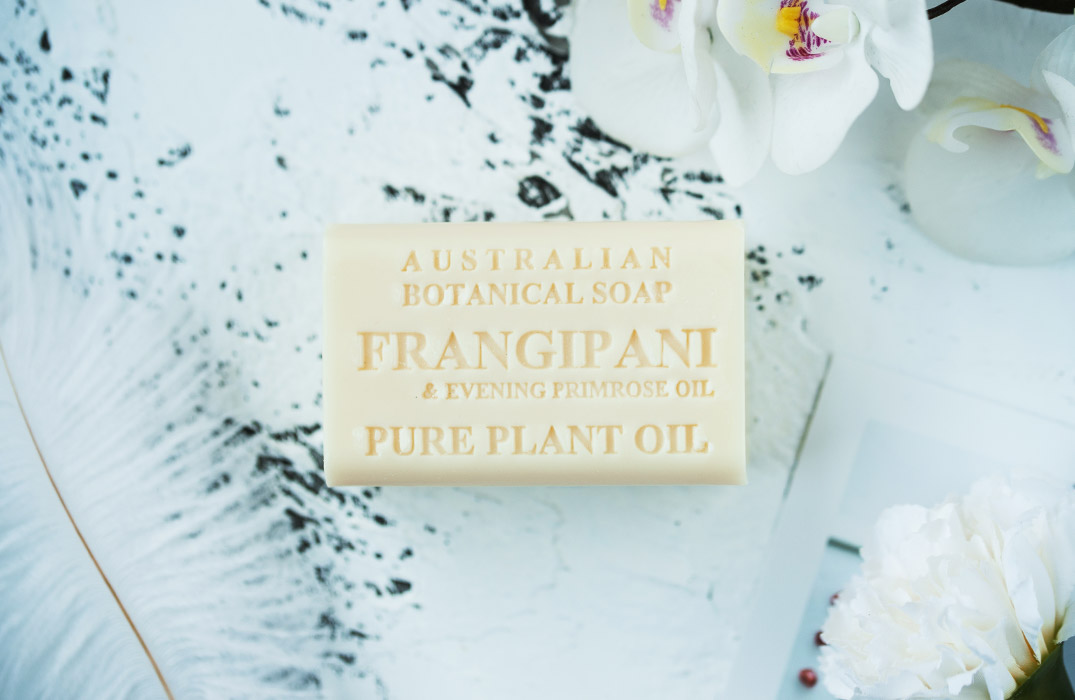 Frangipani and Evening Primrose Oil
Contains frangipani from north Queensland blended with evening primrose oil extracted from the flowers which soothes problem skin conditions.
Mango Butter with
Mango Kernel Oil
Containing natural oil from the mango kernel.
Any natural oils with hydrate our skin and this sweet smelling soap will moisturise your skin and have you smelling like summer.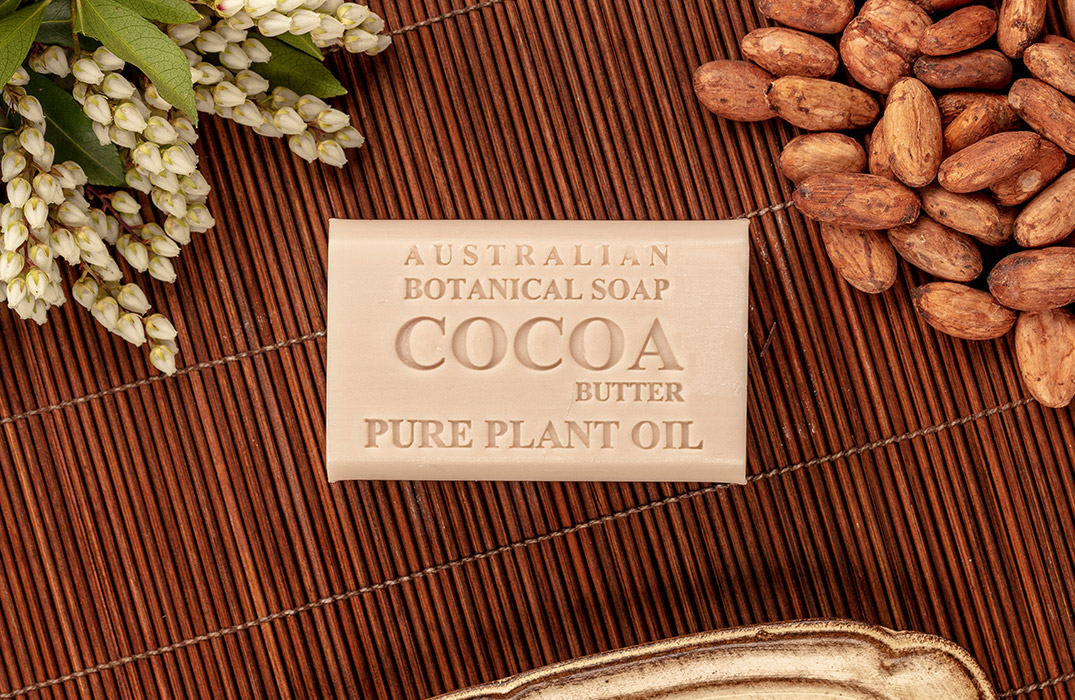 Cocoa Butter
Contains natural cocoa beans which is considered a "super fat".
These natural fats will moisturise the skin without promoting any extra oil production.